Overview
The west coast and islands of Scotland are an absolutely world class sea kayak touring area. We have everything from sheltered sea lochs to seriously challenging tide races and everything in between. We have white sand beaches, towering cliffs, crinkly coastlines and lots of mountains. The trick is knowing where they are and when and where it's safe to go! Plenty of wildlife too, some of which is now recovering well from the exploitation and persecution of earlier times.
The objective is smiles rather than miles (though you can wear yourselves out if you want to!) but I don't think that we have ever run a trip where the clients haven't also picked up some useful skills, knowledge and experience. Us too!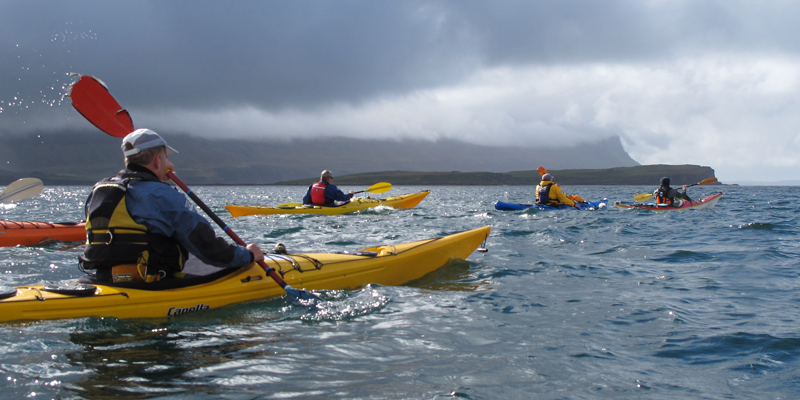 Who is it for?
Individuals, couples or small groups of people who have at least one or two days of skills training, not necessarily with Seafreedom, up to experienced paddlers who want to want to explore with a knowledgeable guide. If the group have not paddled together before we will be careful to avoid bookings with widely differing ability levels.
Group size: Normally 1 ~ 4. Larger groups can be accommodated by arrangement.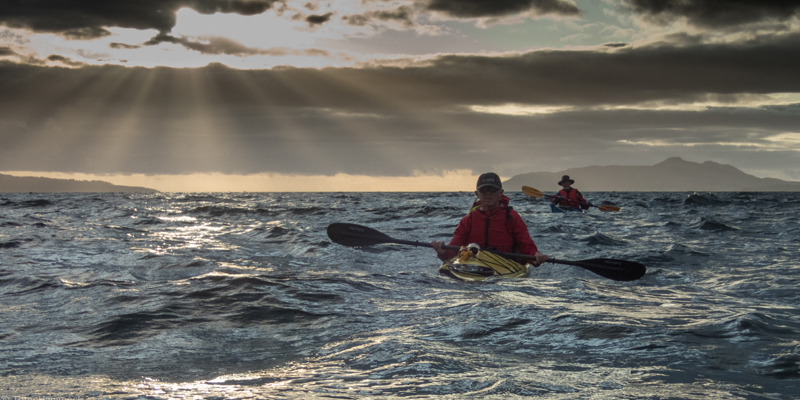 Content
We don't do "Set trips on set days" and we haven't really got any fixed routes, though we do have favourites. In fact we are reluctant to tell you exactly where we are going until we actually meet! This is because we want to plan a trip that will be safe and enjoyable for you, with the right level of interest and challenge, in the conditions on the day. Also, it's nice to involve the clients in the planning
How it works
Before we meet we will have a phone or email conversation to explore what you would like to do and to arrange a meeting place. When we meet we will explain the weather and tidal conditions and (usually) offer you some choice of route. if you are using Seafreedom equipment, we will get you kitted out and for everyone there will be a short safety briefing.
We might launch straight from the meeting place, but alternately we will drive to a launch point and perhaps set up a car shuttle if finishing somewhere else. The we go and have a good time! If you are interested we can explain our planning and decision making as we go along and talk about the history, wildlife and geology on our route.
Duration
You can book as many days as you like, but we recommend not to do more than five in a row without a rest day. A"normal" day would be to meet at 09:30 and be off the water about 16:00 and finished by 17:00. But this is very flexible, so If everyone is keen and conditions are suitable we are usually happy to stay out longer.